Niche Ideas : 76 Great Ideas To Start An Online Business
Are you looking for some not-so-common niche ideas? Here are 76 niche ideas from popular categories which can be a great business idea for you. Feel free to bookmark this page and visit anytime you need some inspiration for your ideas. This list will be updated from time to time.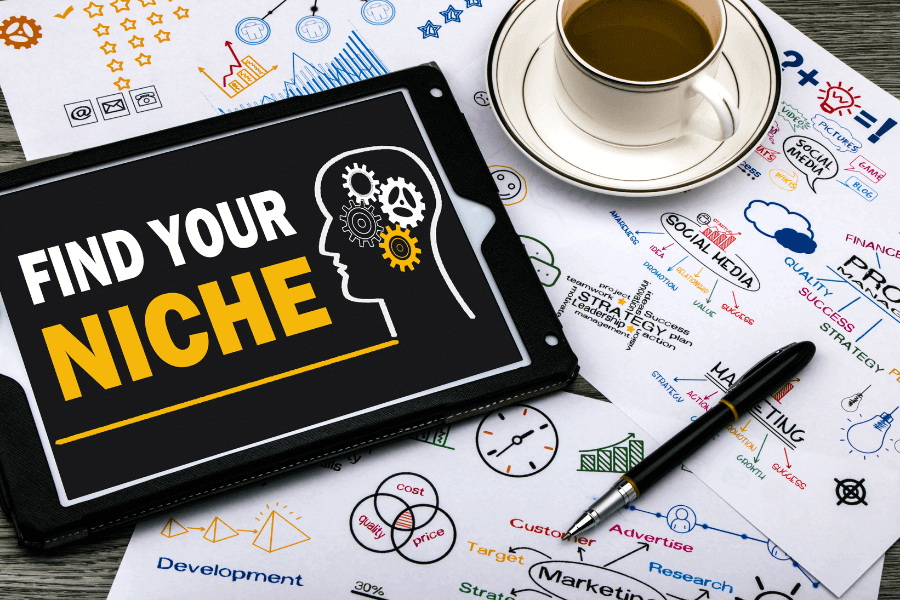 Fitness & Wellness
---
(1) Personal training plans
(2) Vegan protein powder (there are thousands of Google searches a month for pea, hemp, and other plant-based powders).
(3) Yoga accessories and their benefits
(4) Post-workout recovery items, such as balms and foam rollers.
(5) Gear for a specific sport or activity, like snowboarding or Muay Thai.
(6) Hiking and product-associated hikers that fit their lifestyle (boots, backpacks, tents, etc.).
(6) Information and review about fitness apparel brands for CrossFit, martial arts, powerlifting, or another specific fitness regiment
(10) Wellness coaching information
(11) CBD topical products (there are an estimated 19,000 monthly Google searches for "CBD cream")
(12) Meditation classes or guided meditations as digital products
(13) Meal preparation plans for busy people.
(14) Home Workout products for people who enjoy working out at home.
(15) Sleep aids, like weighted blankets and earplugs.
(16) Light therapy products, like light alarm clocks for waking up gradually.
Pets
---
(17) Pet cameras and food dispensers allow owners to watch and interact with their pets while they're not at home.
(18) GPS pet trackers
(19) Tools to personalize pet photos
(18) Organic pet food and treats
(19) Dog accessories
(20) Luxury dog beds (people are spoiling their pups with heated and memory foam beds)
(21) Dog clothing line (dog t-shirts or jackets)
(22) Premium pet food
(23) Decorations for fish tanks and aquariums
(24) Plants (along with pet parents, plant parents are on the rise)
(25) Small pets, such as guinea pigs or hamsters (or even plants).
(26) Designer pet socks. (Searches for "pet socks" spike every winter)
(27) Indestructible dog toys. (About 9,900 people search for "dog toys" every month.)
(28) Interactive cat toys or automated feeders.
Food and Beverage
---
(29) Paleo-friendly snack food
(30) Vegan-friendly snack food
(31) Eco-friendly snack packs
(32) Sugar-free beverage brand
(33) Nutrients and supplements
(34) Coffee (cold brew, grass-fed, bulletproof, etc.)
(33) Gourmet salts, like Himalayan pink salt, fleur de sel, or kala namak
(34) Teas, such as oolong or matcha
(33) Diet-friendly variations of popular foods (gluten-free, vegan, etc.)
(34)Sugar-free candies
(35) Home beer brewing kit
Home and Living
---
(36) Smart home accessories, like smart locks, for Airbnb hosts to manage their business.
(37) Bedding focused on a certain need (such as hypoallergenic sheets or weighted blankets)
(38) Products for home offices, such as whiteboards, standing desks, and organizers
(39) Smart mirrors
(40) Ornate lights and lamps
(41) Home survival kits
(42) Baby products for new parents, like baby cameras, toys, and parenting courses
(43) Home barware(bar cart, ice makers, cocktail sets, etc.)
(44) Blinds and other temporary home fixtures.
(45) Organizers or furniture for small apartments
(46) Cookware and kitchen gadgets for people who are serious about home cooking
(47) Succulents or terrariums for people who want to add low-maintenance greenery to their dwelling
(48) Eco-friendly cleaning products and sell them to environmentally conscious homeowners
(49) Home gardening kit for apartment tenants
Gaming
---
(50) Mobile gaming accessories, like gamepads, power banks, and phone cases
(51) Gaming headphones and mics for live streamers
(52)Ergonomic gaming gear (gaming chairs, wrist rests, etc.)
(53) Gaming hardware, like keyboards and mice
(54) Create artistic and premium top-of-the-line accessories and products
(55) Create 3D models, musical scores, and other assets to sell as digital products that indie game developers can license
Outdoor and Recreation
---
(56) Bikepacking supplies like special bike carriers and equipment
(57) Gear and apparel for hiking enthusiasts, like specialized footwear, coats, walking sticks, and backpacks
(58) Portable cooking supplies, tents, sleeping bags, and outdoor furniture
(59) Swimwear, pool toys, and inflatable furniture for lounging on the lake
(60) Gardening and lawn care, such as seeds, planters, outdoor decor, soil, and tools for garden maintenance
(61) Electronics that specializes in portable, outdoor-friendly electronics like satellite walkie-talkies, Bluetooth speakers, waterproof cameras, and solar-powered chargers
(62) Fishing supplies, such as fishing rods, baits, tackle boxes, nets, and boating gear
(63) mountain-climbing gear such as climbing shoes, helmets, harnesses, climbing rope, and travel bags
(64) Skateboard accessories such as apparel, footwear, decks, wheels, helmets, and other parts and equipment
(65) Scuba-related gear such as snorkels, wetsuits, and special equipment like waterproof cameras and diving lights
(66) Ski and snowboarding equipment like poles, goggles, boots, helmets, and winter apparel
(67) Rollerskating gear such as skates alongside equipment like pads, helmets, skate bags, and special parts like wheels and bearings
(68) Boating equipment like anchors, tarps, navigation tools, bow thrusters, water-proof tape, and special boat-cleaning products.
Beauty
---
(69) Cruelty-free makeup to sell online
(70) Hair extensions (an estimated 130K people search for hair extensions each month, including clip-in, tape-in, halo, etc.)
(71) Makeup for darker complexions
(72) Korean-specific beauty products, like silicon sheet masks, snail slime, and skincare routines
(73) Dental Products (teeth whitening kits, toothbrushes, floss)
(74) All-natural, toxin-free shampoo
(75) Scented bath bombs
(76) Beauty or grooming products for men